A Lifelong Methodist
a lay delegate in 1996 and 1988 to General Conference, the worldwide governing body of the United Methodist Church (UMC), which meets every four years

a lay delegate in 2004, 2000, 1996, and 1988 to UMC Jurisdictional Conference, the body that meets every 4 years to elect UMC bishops

a speaker at church-related events throughout the U.S.

2007 recipient of the annual Seals laity award given by SMU's Perkins School of Theology

a graduate of the Academy for Spiritual Formation, a 2-year ecumenical program sponsored by the United Methodist Church

a member of the UMC's General Board of Church and Society and its Executive Committee, 1996-2004

in her local congregation, First United Methodist Church of Temple Texas, a long-time Sunday School teacher and choir member, past chairperson of numerous committees and projects, and frequent developer and teacher of short courses about theology, church membership, and spiritual growth. (Barbara has been a member of this congregation for more than 50 years, but because of what she sees as its increasingly narrow and outdated interpretation of the Bible and Christianity, in 2006 she stopped participating. She soon received an e-mail from an FUMC pastor informing her that this pastor had been ordered to have no further contact with Barbara or her husband. They have never received any explanation of this order. For more, see the November 2013 Connections.)
a university graduate in math and theology
a Phi Beta Kappa graduate of Southern Methodist University with a degree in mathematics

recipient of a Master of Theological Studies degree from SMU's Perkins School of Theology, a United Methodist seminary

formerly a mathematician and computer programmer in the geophysics research department of a major oil company

since 1959 a resident of Temple, a central Texas town of 70,000
an active participant in family and community
since 1959 the wife of a business owner and active volunteer in church, civic, and professional organizations, who died in June 2018.
the mother of a grown daughter

past president of community-volunteer organizations
a philanthropist
founding donor of the Wendland-Cook Program in Religion and Justice at Vanderbilt Divinity School

with her family, donor of the Wendland-Cook Fellowship in Constructive Theology at SMU's Perkins School of Theology (currently unoccupied)

with her family, donor of the David W. Starr Visiting Professorship in Mathematics at SMU

trustee of a small family charitable foundation, contributing to the arts, education, medicine, and progressive Christianity (But because the foundation has no staff and the trustees are already aware of many more deserving organizations and projects than they can afford to contribute to, they neither accept nor respond to unsolicited grant requests.)
author of Misfits: The Church's Hidden Strength
(St. Johann Press, 2010) To see the Table of Contents and some other pages of this book, click on this link to go to its Amazon page.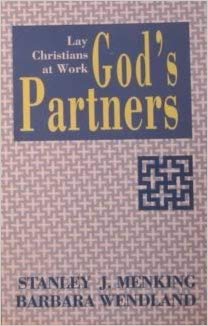 of God's Partners: Lay Christians at Work
(with Stanley J. Menking, retired Associate Dean of Perkins School of Theology) Judson Press, 1993
co-author of Spiritual Family Trees: Finding Your Faith Community's Roots
(with Larry W. Easterling, a United Methodist clergyman) Alban Institute, 2001
author and publisher of Connections
author of articles in church-related periodicals, including Zion's Herald, Circuit Rider, Upper Room Disciplines, United Methodist Reporter, and Christian Social Action
Listen to Barbara on the Faith and Reason Podcast
Barbara discusses the need for a radical update of creed, attitude, and structure in the Christian church. Its practices, Wendland says, are outdated, and this behind-the-times attitude, though revered as traditional by many, comes at the expense of church effectiveness. The world has changed dramatically since the 3rd century; is the church ready to catch up?
Watch an interview with Barbara at the inauguration of the Wendland-Cook Program in Religion and Justice at Vanderbilt Divinity School

Sorry—not here yet . . .

Read interviews with Barbara from Sorry—not here yet . . .

Austin American Statesman

Temple Daily Telegram

The Progressive Christian